Lake Champlain
July 5, 2005
By Colby Munger

After arriving in Essex, New York on June 13 the first tropical storm of the year moved north from the gulf and took up position over the Adirondacks and Lake Champlain and set up to rain on us for five days. Our car arrived from Annapolis the first day and we dropped Tony, our driver, off in Burlington, Vermont at the car rental for his return drive to Virginia.

Rain continued to threaten on June 15 so we took our car by ferry to visit the Shelburne Museum in Vermont. This very interesting museum covers 40 acres with many buildings dedicated to the varied historical aspects of live in Vermont. The museum hauled TICONDEROGA, the last operational steamboat on Lake Champlain, overland almost a mile to the museum and restored her impeccably to a well documented day early in the century. Pictures covering this log entry can be seen at Lake Champlain I Photo Gallery.

On June 16 it really rained and I finished the first book of the cruise. We also discovered that the laptop that we use for these log entries had a corrupted operating system. Sigh... all the back up disks were a home. With help from Dell and my office we are finally back up and running. Sorry for the hiatus in posting logs.

It continued to rain off and on June 17th but suffering from cabin fever we headed to Lake Placid and Saranac Lake by car to shop the mountain craft shops. The rain had flooded out a number of roads between Essex and Lake Placid making for a number of detours.

In Saranac Lake we came across Christopher Woodward's boat shop. Christopher spent and hour showing me the traditionally built guideboats he has been building and repairing. Carol knew I had spent the winter reading extensively about Adirondack watercraft. She had no idea that I would be dragging her to every museum and boat builder in the Adirondacks that could show me their special craft.

The bad weather began to pull out so on June 19 we took MYSTIC ROSE over to the Basin Harbor Club on the Vermont shore. This destination resort had an attractive tie up so we decided to stay for two nights.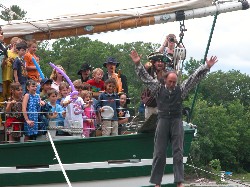 The LOIS McCLURE, a reproduction of a Lake Champlain canal schooner was visiting the Lake Champlain Maritime Museum and was also having "Kid's Day" with lots of activities. We fit right in. The kids participated in a pirate attack on the schooner and made the captured captain walk the plank.
Basin Harbor Club has golf, tennis, massage therapists, heated pool, beach for swimming and many water toys. The restaurants are good. At the main dining room a coat and tie are required. The picture at the top of the log was taken in the morning light at Basin Harbor, June 20. Our stay there was a treat.
A front threatened further boating so we returned to Essex Shipyard. On June 23 we did a road trip to Fort Ticonderoga. Re-enactors were setting up to redo an engagement from the French and Indian War. It was interesting to see the passion of these hobbyist as they worked to reproduce the details of the period.
After a tour of the fort we continued down the western shore of Lake George. We stopped at the Hacker Boat Company to see the building of these beautiful mahogany runabouts. Lynn Wagemann, new owner as of last summer, gave us tour. We saw new boats in all stages of construction and old ones in for restoration and repair. Lynn pointed out that their new boats are not reproductions because the company has been in production non-stop from its inception in the early 1900's. They still build to the old plans or to new models that have been refined for improved performance.
Our next trip is also by car in to the Adirondacks for a four day stay at The Hedges, a great camp on Blue Mountain Lake.