Featured Picture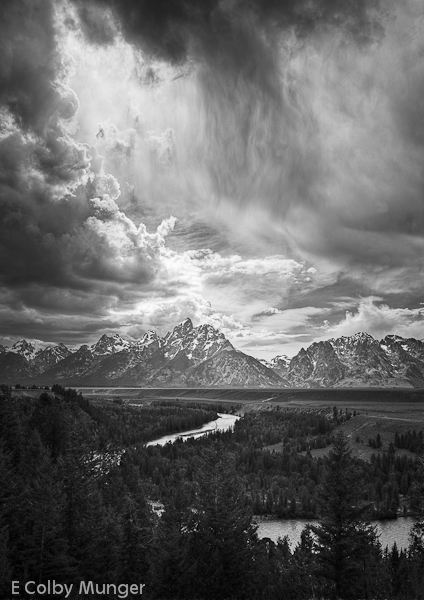 "Snake River Storm"
Teton National Park, Wyoming
Fine Art Photography

These galleries provide a view of Carol's and my favorite landscape, nature and travel photos. Our enthusiasm for photography has been rekindled and grown to a fulfilling passion over the last few years.
Our goal is to create fine art prints that evoke the emotion that we feel when in the presence of beauty. We would further like our prints to remain evocative one hundred years from now. For us this longevity is core to the meaning of "fine art" and only occurs the print touches an archetype that within us is both universal and eternal. Unfortunately, we won't know whether any of our prints achieve this status because no artist has ever lived long enough. Somehow I know a few artists from the 19th century Hudson River School of Landscape Painting are smiling down as their pictures still touch us over a hundred years later. But, it is always a goal as we look through the viewfinder and refine each print.
We strive to create each print with the highest level of mastery in the print making craft using the best of materials and digital print making technology. The prints are made with archival materials to last multiple generations. If after browsing through our web portfolio you are interested in commissioning a print please click on Fine Art Prints for more information.
Though our primary goal is the creation of fine art prints, our website gallery often covers a broader photographic experience. Only a few select images in each gallery will transition from website "keepers" to fine art prints. We have found that our friends enjoy a broader coverage that provides a context for arriving at the one or two that become part of their art collection. As we revisit the site, certain images have maintained their emotive impact. These are the ones that have ultimately become displayed in our home.
Please provide us your reactions to the pictures by emailing us at colby@carolandcolby.com. Our photographs are refined in Adobe Photoshop CS5 and the web galleries are created in Adobe Lightroom. The web galleries use the Adobe Flash plug-in in your Internet browser. You can either click on the galleries to the left or below to display them. If you would like to visit our boating and early photography website click on carolandcolby.com.
Rocky Mountains National Parks - 2010 Gallery
This last Summer we traveled for more than a month though the western mountain parks from just north of Denver all the way to Jasper National Park in Canada. Day after day we were blown away by the beauty of these parks. Often the light and weather would come together to provide a sublime experience and offer us compositions that touched our hearts. This collection has pictures by both my wife, Carol, and me. Please click Here to enjoy a selection of our favorites.
Updated Black and White Gallery
Check out the updated black and white gallery with some newly released prints. You will find my top twenty one. These are available printed on Epson Exhibition Fiber paper on an Epson 7900 printer which renders the rich tones that were only previously possible in the darkroom with silver halide paper. They are personally printed and signed by me. Click Here to see the portfolio.
Black and White Gallery - Updated December 14, 2010
Rocky Mountains 2010

A collection of 21 favorite black and white pictures being printed with the latest paper, technology and inks suited to black and white.

We traveled in a small RV to photograph The Rocky Mountain, Grand Teton, Yellowstone, Glacier, Waterton Lake, Banff and Jasper National Parks. There are 35 pictures.

Natural Florida 2009

We spent part of two weeks in January in Southwest Florida taking Nature pictures in wildlife preserves and the Everglades. There are 48 pictures.

H

ere are our favorites from our trip to the Galapagos Islands in May 2008. There are 38 pictures.

This is a gallery of prints that made up a solo exhibition that ran from April 2008 that was extended to eight weeks. We hope you will like the show as much as we have in putting it together. If you are interested in a print contact us.

In July 2007 Carol and I used a recreational vehicle for a photo safari to Zion, Bryce and the North Rim of the Grand Canyon National Parks and the surrounding area. The amazing experience resulted in this gallery of our favorite images. There are forty pictures.

These photographs were taken along California's Pacific Highway near Big Sur and Pebble Beach in the Spring of 2007. There are eleven pictures.

These photographs were taken during a Moose Peterson workshop in Yosemite in late February 2007. There are fourteen pictures.